Tony Robbins & Dean Graziosi – Project Next Thrive Edition 2022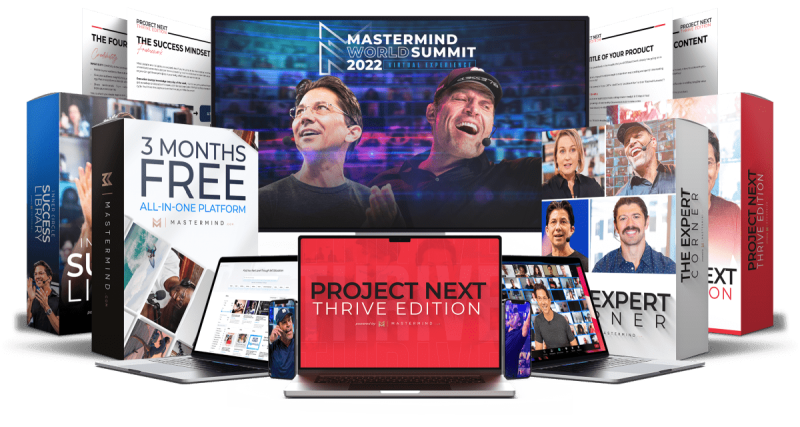 Presenting the Tony Robbins & Dean Graziosi – Project Next Thrive Edition 2022, an all-encompassing, breakthrough course that equips you with a next-level mindset, strategies, and tools to launch and scale your knowledge product in today's changing world.
The program is designed to unleash the entrepreneur within you and leverage your passion, experience, and expertise to create an impactful product or service.
Immerse yourself in six meticulously curated modules that empower you to become unstoppable, identify your niche, build your product effortlessly, market your message, and sell confidently.
These modules deliver concise, clear-cut, and actionable information, providing a step-by-step guide to navigating the complexities of entrepreneurship.
The program includes an opportunity for six weeks of live group coaching with Dean Graziosi, where he will work with you and other participants to implement what you've learned.
This accountability and coaching bridge the gap between learning and implementing, ensuring you achieve desired results.
The "Expert's Corner" takes your learning to new heights with insights from industry professionals like Alex Hormozi on Organic Social Media Domination, Bari Baumgardner on Speaking On Stage, Tony Robbins and Dean Graziosi on Marketing 2.0, and much more.
These experts provide practical, real-world strategies that can catapult your business to success.
The Project Next Thrive Edition 2022 course also grants you unlimited access to Dean's Inner Circle Success Library – your "Netflix" of success. With over three years of marketing, mindset, and momentum coaching content, you have a goldmine of insights at your disposal, allowing you to revisit and reinforce your learning at any point.
Gain exclusive bonus content from industry leaders, including Brendon Burchard's Marketing Mastery, which unveils secrets he used to generate hundreds of millions in revenue; Russell Brunson's 10X Sales Masterclass, which uncovers his scripts, frameworks and strategies; Rachel Miller's Viral Funnels, a framework for attracting consistent business; Lisa Nichols' Abundant Life Program to transition from average to abundant thinking; and Maya Comerota's X Factor Experience for maximizing your impact, influence, and income.
The Tony Robbins & Dean Graziosi – Project Next Thrive Edition 2022 is more than a course. It's a comprehensive ecosystem of learning, implementing, and growing in your entrepreneurial journey, irrespective of the stage you're currently in.
Whether you're a novice or a seasoned entrepreneur, this program is your springboard to take that leap toward your next level of success. Secure your place now, and turn your knowledge into a profitable venture.