Travis Sago – Make Em Beg to Buy (Gimme Diamond Level)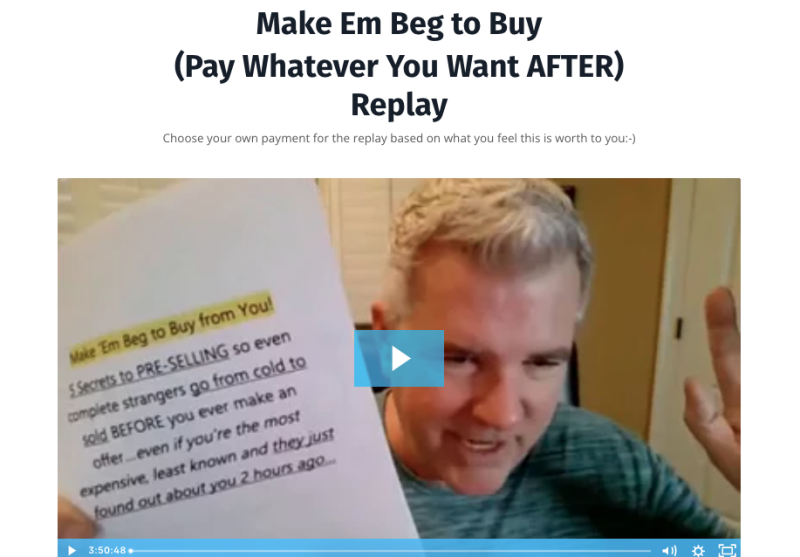 What You Get in Make Em Beg to Buy (Gimme Diamond Level):
DIAMOND LEVEL: With Silver, you've got a hot offer; with Gold, you're a sales rainmaker, and now you're creating demand on demand: more leads, more people seeing your offer, and more Stripe and Paypal notifications. Zongo, go NUTZ…
NOTE if you're new to PSM: The Phoneless Sales Machine is how we get leads from email, Facebook groups, YouTube, Instagram, and anywhere else there's an audience, qualify them over DM, and close them with Google Docs on products ranging from $500 to $50,000 WITHOUT PHONE CALLS!
Diamond Level grants you IMMEDIATE access to the tried and true PSM 2.0 and the keys to PSM 3.0 as it is released!
What's NEW in PSM 3.0:  
*NEW BREAKTHROUGH ONE: Large Ticket Sales without Phone Calls OR Tapping! When you're tapping in $500 to $50,000 in sales in bed while watching Yellowstone, DM and chat sales are a lot of fun. With 3.0, I've eliminated the DMing back and forth.
There is still a place and a time for DMs.
But I will show you some examples of what I'm doing to get Stripe to sing without the tapping 3-Step dance.
*NEW BREAKTHROUGH TWO: More prospects. Pre-sold leads. ON-DEMAND CREATE DEMAND! Whether you're using 2.0 with DMs or 3.0, once you've got your offer working, you want more eyes to see it – and with earnings per click in the $50 to $100 range that I've been able to achieve with PSM 3.0…even 10 more people seeing your offer per day is an extra $500 to $1,000 in your pocket per day.
I've made breakthroughs in attracting those eyeballs by focusing on what we LEAVE OUT rather than what we ADD IN by producing LESS content rather than MORE… and cloning what worked to create new lead flow.
Whereas I used to get 3 to 5 leads from an email or a post, I now get 30 to 50…
Creating posts, emails, and other content with less sweat
*NEW BREAKTHROUGH THREE: Get PAID to grow your list, group or audience.
Some people enjoy paying for traffic. Some like to get it "free." I'd rather grow while also getting paid!
Growing an audience from the outside is as slow as baking traffic in a conventional oven.
Growing an audience from within generates traffic like a microwave.
I don't know of a faster or more consistent way to grow a group, an email list, or any audience. (I've been doing it since 2004.) In just a few weeks, I've more than doubled the size of my group. It only cost me a Zoom call…then… I make 5 and 6 figures from the Zoom recordings.
And everyone says thank you!
I call this an audience, influence, and income multiplier campaign. (For short, AIM Campaign)
And, as great as a larger audience is, the best part is the increase in your audience's response rate.
During and after the campaign, leads, sales, and referrals multiply.
I haven't seen ANYONE teach this inside-out approach to growing AND CONVERTING AUDIENCES!
*NEW BREAKTHROUGH FOUR: It turns more cold traffic into pre-sold traffic EASIER and often FASTER than webinars, strategy sessions, VSLs, or anything else I've tried since 2004.
I won't reveal it here because I want this to be a competitive advantage for everyone on Planet Mojo.
But all I have to say is "Netflix Effect!
I can see a cold visitor come into my funnel…
Watch them devour content…
Then they messaged me in my DMs, asking, "How can I work with you?" – I'll provide numerous examples!
NEW and Expanded Million Dollar Template Library:
At the risk of writing a document longer than a government bill…
In the million-dollar library, you can let your fingers do the walking. There, you'll find ready-to-deploy emails, social posts, landing pages, DM sales examples, examples of how NOT to handle objections, and whole campaigns with emails, landing pages, and more.
**
One campaign made $250,000 from a list of fewer than 9,000 people with NO PHONE CALLS, WEBINARES, VIDEOS, OR DMing…
It's yours to take!