Tim Denning – LinkedIn Mastery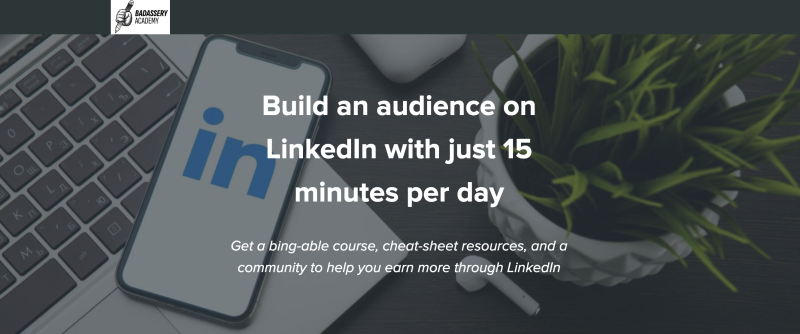 Introducing LinkedIn Mastery by Tim Denning, a comprehensive course designed to transform you into a proficient LinkedIn content creator in just 15 minutes.
This course is your roadmap to success on LinkedIn, offering a step-by-step guide to navigating the platform and leveraging its features to boost your professional presence.
The LinkedIn Mastery course is a treasure trove of LinkedIn knowledge. It covers everything from understanding your goal and creating a profile that amplifies your content to picking a LinkedIn-specific topic and format that works. With Tim Denning's expert guidance, you will navigate the LinkedIn landscape with ease and confidence.
One of the unique features of this course is the detailed guide on creating content in the LinkedIn voice. This lesson will teach you how to craft compelling content that resonates with the LinkedIn audience and boosts your visibility on the platform.
In addition to content creation, the course includes comprehensive lessons on building an audience on LinkedIn. These lessons will guide you through growing your network and engaging with your audience effectively.
Another key feature of the course is the guide on idea generation that works. This lesson will equip you with the skills to consistently develop fresh and engaging content ideas that will keep your audience coming back for more.
The course also includes advanced techniques to level up your content, a guide on creating a system for your content creation, and lessons on taking your audience off LinkedIn and making money on LinkedIn.
It also covers things to avoid on LinkedIn and provides closing thoughts and a challenge to help you apply what you've learned.
In addition to the main course, you will receive bonus updates for Spring and Fall 2022. These updates cover topics like using Creator Mode, LinkedIn Newsletters, how not to lose your LinkedIn account, growth hacks for turning LinkedIn followers into email subscribers, and much more.
In summary, the LinkedIn Mastery course by Tim Denning is a comprehensive guide to mastering LinkedIn content creation in just 15 minutes.
It offers a step-by-step guide, covering everything from understanding your goal and creating a profile to idea generation and advanced techniques.
Enrol today and take the first step towards mastering LinkedIn.