Frank Kern – The Live A.I. Customer Machine
NEW DISCOVERY COMBINES A.I. & "LOST" MARKETING SECRETS TO MAKE YOU FAMOUS OVERNIGHT.
…ALL WHILE GENERATING GOODWILL, CREATING AUTHORITY, HELPING PEOPLE, AND BRINGING IN BUYERS.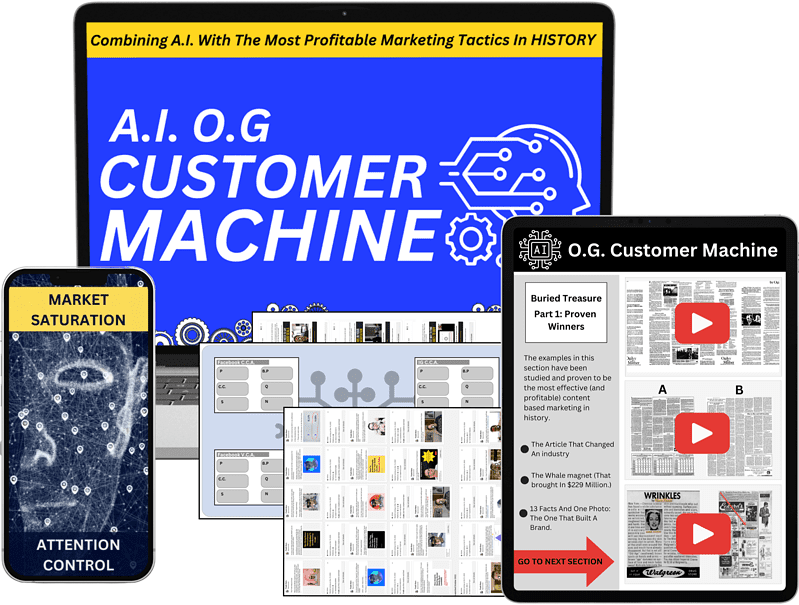 4.0 INTENT-BASED BRANDING
In 2017, I "discovered" intent-based branding and have been obsessed with it ever since.
When I first taught it, the class cost $2,997 and always sold out.
Since then, a lot has changed. It's become more simplified, streamlined, and, in many ways, easier.
You are receiving the most recent version, which I have only given to my most valued customers and clients.
This variant has never been sold.
SOCIAL SALES FORMULA
NEW! This course was developed in the spring of 2022 and demonstrated how to use organic social media posts to generate leads and sales.
This is NOTHING like the types of posts you've heard others talk about.
You only ever use three types of posts, and they always push for a lead or a sale.
This was created after my friend Aaron Fletcher, and I sold over $200,000 in products in a week using this method.
CHATBOT BLUEPRINT
Chatbots are required if you want to double or triple your social media revenue.
I'm giving you the plug-and-play blueprints for all of the chatbots that I use to turn social comments and inbound messages into sales…automatically…in this program.
$5,000 GRAPHICS TEMPLATES
Graphics are one of the things that can slow you down when creating social media posts.
After all, you can only take so many selfies.
That's why I paid a $5,000 designer to create templates for me to use…personally…for my own Social Posts.
I am providing you with these templates. They can be customized in Canva or Photoshop.
KERN INNER CIRCLE COLLECTION
NEW! I've never made this collection available to the public before.
The Kern Inner Circle was a physically printed and mailed newsletter that included behind-the-scenes videos, daily calls, and other goodies.
The monthly fee was $397, and I published it from 2016 to 2020.
Having this collection is essentially the same as working side by side with me for almost four years as I built and scaled multiple businesses to seven figures.
Nothing like it exists on the planet.
MASS CONTROL MONTHLY
Frank Kern created this $9,801 worth of in-the-trenches recon reports during the craziest era of Internet Marketing.
Every report costs $297…
and you'll receive all 33 of them.
This is for you if you've ever wondered what it was like behind the scenes as Internet Marketing History was being made. Each report also includes specific ACTION STEPS and promotion ideas that you can copy and paste as needed.
UPSCALE CONTINUITY
NEVER OFFERED TO THE PUBLIC: As you can see, I enjoy selling things that pay me every month. Even today, I have programs that pay me every month. One of my smaller programs earns slightly more than $480,000 per year. A newer program I launched in September is bringing in $124,000 per month in recurring revenue. And a program I launched two days before Thanksgiving is already bringing in $13,000 per month.
All of these programs are recurring monthly revenue streams…or "Continuity Programs," as they're known in the industry.
In Upscale Continuity, I show you how to create and sell your own continuity program.
This course has NEVER BEFORE BEEN SOLD. It was created exclusively for my Inner Circle members and has since been archived.
EVERGREEN EMAIL MACHINE
NEW! This training, which was developed in June of this year (2022), demonstrates the NEW way to use email.
You'll see how I "email hacked" billion-dollar brands to find email messaging and email SENDING strategies that skyrocket email sales.
We literally pour-over brands that sell more than $200 million in "regular" products each year…via EMAIL…and then model their methods in YOUR business.
INSTANT AUTOMATION
This training cost $15,000 and was sold to a small group of Frank's students who worked together to create the ultimate automated email SALES MACHINE.
We accomplished this by locking ourselves in a hotel meeting room for two days, taking my email swipe files, personalizing them for everyone's needs, and then "installing" them into everyone's email software.
We had hundreds of students attend these small events, but thanks to technological advancements, we can now install these tame swipe files and automated campaigns into your system for FREE.
THE COMPLETE MAXIMIZER PROGRAM
This training was sold for $2,997 to a small group of Frank's students once – and has NEVER been offered to the public for ANY price.
In this 12-week program, you'll learn how to craft seven sales pitches that can be used to sell anything, from ebooks to coaching …to accounting, …or makeup.
Plus, you'll discover how to get leads and turn them into customers FAST
…using advanced email automation and hardcore email sales copy.
OPERATION TOTAL FREEDOM
This extremely rare training was initially available ONLY ONCE FOR $10,000.00.
It is regarded as the ultimate training for selling extremely expensive offers.
This is so uncommon that people were required to sign a legal non-disclosure agreement… to see the offer. It has NEVER been sold to the general public and is not for sale at any cost.
MILLIONAIRE MARKETING FORMULA
This $10,000 event with Frank Kern and Brendon Burchard was only available ONE TIME… and was only available to their most loyal customers.
It's so uncommon that it was sold via DIRECT MAIL!
This episode takes you behind the scenes as Frank and Brendon dissect every promotion they've ever done that has resulted in over a million dollars in sales.
Some of the biggest names in Internet Marketing attended, and many described it as the best event they'd ever attended.
THE HIGH TICKET MAGIC MODEL
Frank only provided this training four times. It teaches you how to use webinars to create and sell high-ticket programs… It was sold for $10,000. It is not available for purchase at any price.
When it comes to "Big Names" in the "high ticket" world, there are two who got their start with this one training. In fact, you'll find that their programs are nearly exact carbon copies of this.
Why pay $10,000 for a duplicate when you can get the original right here?
THE ADVANCED CONSULTING CLASS
Many of today's top coaches got their start thanks to the methods taught in this class. This is for you if you want to sell your advice and expertise to "real businesses" in a professional manner…
INFORMATION BUSINESS BLUEPRINT
This training goes far beyond simply teaching you how to create and sell digital courses. You'll quickly realize that there are various types of digital courses… Each type has its own framework. There are courses that are "front end" in nature. Courses with "Bread and Butter" ingredients. Courses in the "Blockbuster" style, and more.
You'll also learn about the systemized sales processes for each type…
and you'll understand how to SELL the course you've created…
Using the most effective process for maximum sales.
You'll also learn how to determine whether your course is likely to sell…before you create it.
THE HIGH-LEVEL FELLOWSHIP
This item was only sold twice… and people gladly paid $7,600 to get it.
It was founded after Frank spent several years performing higher-level (and higher-priced) consulting work for seven and eight-figure clients.
You'll learn about the five main "High Ticket" models (no, it's not "just coaching and consulting"), how to price them, how to get paid for them, how to deliver them, and, most importantly, how to sell each one.
There is literally nothing for sale anywhere at any price. Get it right now.
This product was only available once…
and was completely sold out in a week.
It teaches you how to reverse engineer pop culture and psychology to get people to sign up for your list in droves…then it teaches you how to turn that list into BUYERS using email and automation.
OPERATION TAKEOVER
This one-time-only class cost $1997 and included over 30 LIVE hot seats with Frank.
It will teach you simple techniques to literally TAKE OVER your market's attention, establish yourself as an authority, and ultimately make more sales.
MASS CONTROL 2.0 COMPLETE
The complete step-by-step method for creating the highest-grossing sales promotions in the history of Internet Marketing…
THE THREE-STORY SYSTEM
It's no secret that most people despise marketing. But they adore stories.
This training (which was only available once in 2020 for $2991) will teach you that EVERY human goes through three psychological stages when they buy something. (Literally, all humans do this – and it doesn't matter what they buy).
Then you'll realize that there's a specific story type for each stage…
The scripting frameworks for each story will then be provided.
This is an extremely rare training that is not available for purchase anywhere.
THE ULTIMATE WEBINAR BLUEPRINT
This course is widely regarded as the single most effective blueprint for producing content-rich webinars that sell…
THE ALCHEMY EVENT LIVE RECORDINGS
This exclusive invite-only event is all about the most profitable thing you can do online… Profit from advertising!
SUBCONSCIOUS SELLING
Frank breaks down the communication patterns of the most influential communicators and shows the PATTERNS to how they create MASS MOVEMENTS by simply talking in this rare training.
You'll learn how famous political leaders and hugely successful entrepreneurs effortlessly control the opinions of millions of people…just by talking.
THE SURVEY SIPHON SYSTEM
How to sell three different products in a single campaign… all while never "feeling" like a sales process to your customer…
THE VIDEO BLACK BOX SYSTEM
How to sell three different products in a single campaign… The simple video creation formula that made Frank Kern famous and has kept him at the top of the internet marketing industry…