Wealth Warriors – Elite Income Empire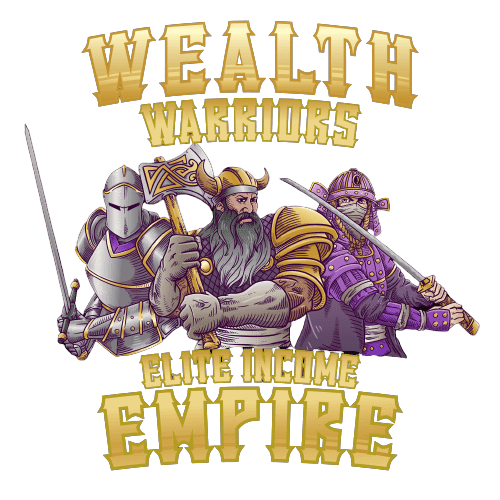 What do You get in Elite Income Empire?
ELITE INCOME EMPIRE WEEKLY COACHING CALLS – Unlimited LIVE Coaching For 12 Months
Elite Wealth Empire Every week, we'll show you the most recent strategies we're using to help you grow and scale your online business to your first $20,000 in online earnings and then to $100,000+ in commissions.
Work on LIVE coaching calls with super affiliates Daniel Chou, Nathan Bokkers, and our Wealth Warriors 7-Figure Coaching Team throughout the week to implement the newest strategies and tactics that WORK NOW!!
Elite Income Empire Membership Area – Start & Grow Your Income Empire From The Comfort Of Your Home 
A step-by-step home-study course will give you everything you need to start your online affiliate marketing business and help you scale from zero to six figures in as little as six to twelve months.
This is THE BLUEPRINT we use in our business and will help you DOMINATE any affiliate products/programs you promote.
Income Empire Fast Track – A Done-For-You Funnel To Skyrocket Your Email List & High Ticket Sales 
When you join the Elite Income Empire Program, you will gain access to our Premium, highly-converting offer, which you can promote as an affiliate and earn 45% commissions on each sale. Allow the Wealth Warriors team to handle the technical aspects so you can begin promoting IMMEDIATELY and FAST-TRACK your success.
WW Social Conversion Engine – Done-For-You Prospect Nurturing & Relationship Building To Turn Your Leads Into Hungry Buyers 
When you join the Elite Income Empire Program, you'll gain access to our Social Conversion Engine, where we'll do 95% of the work to convert your leads into HUNGRY BUYERS.
We have a bolt-down prospect nurturing system that will do all of the telling and selling for you, so you can relax knowing that the Wealth Warriors team will handle prospect nurturing and follow-ups for you.
PLUS, These Amazing BONUSES
Million Dollar Short Form Video Content Library
Content creation can be intimidating, especially when you're just getting started. That's why we'll give you 100 top-performing Tiktok, Instagram, and Facebook videos that helped us earn over $700 online.
With our Million Dollar Content Library, you'll always have content ideas to draw from, so you can focus on creating high-quality content that will engage and convert your audience into buyers. You'll save time and energy by recreating our most successful content while increasing your authority and success.
Elite Income Empire 7-Figure Swipe File 
We will provide you with all of our emails, Facebook posts, social media images, and marketing materials for you to copy, paste, tweak, and profit from.
Show us one guru who will give you everything they use without charging you $25,000.
(That does not happen!)
We're giving you everything we've used to earn over $700,000 in Affiliate Commissions so you can get results 10x FASTER than if you had to figure it out on your own.
Live Masterclass: Jonathan Montoya's Million Dollar YouTube Ads Formula – The Path To Your First/Next Million Dollars Online
What is the best way to make your first million dollars online? Simple. You find the best Sherpa who has been there and done that MANY MANY times, and you climb Mount Everest with him every step of the way.
We bring you the Legend, Jonathan Montoya, the founder of Passive Income Lifestyle, to show you step by-step how to Accelerate your growth with YouTube Ads and create a 7 Figure business online in this Live Masterclass.
Live Masterclass: Igor Kheifets' Super Affiliate Email Marketing Formula – How To 5X Sales From Any Email Promotion
What does it take to become a Super Affiliate? We bring you the Legend, 8-Figure Email Marketing Expert – Igor Kheifets, to teach you his tried and tested 2023 strategies to help you 5X your sales through email marketing in this Live Masterclass.
Igor Kheifets is the No. 3 Top Earning Super Affiliate in the internet marketing space and the Amazon best-selling author of List Building Lifestyle – Confessions of an Email Millionaire. He is the go-to expert for quickly building large responsive email lists.
Live Masterclass: Daniel Chou & Nathan Bokkers' Effortless Selling Secret – How To Make Your Offer So Good, People Feel Stupid Saying No 
THE BONUS PACKAGE is the difference between super affiliates who make sales effortlessly and amateur affiliates who struggle to make sales. You can become wealthy regardless of your current circumstances and DOMINATE any products you choose to promote once you master the skill of creating an incredible BONUS PACKAGE.
In this Live Masterclass, Wealth Warrior's founders, Daniel Chou and Nathan Bokkers will walk you through creating your BONUS PACKAGE, making your offers so good that people will feel stupid saying no.
Live Masterclass: With a top student, Troy Vayanos' AMAZON PASSIVE INCOME MACHINE – How To Make $2k/Mon Passively On Amazon WITHOUT Showing Your Face or Buying Any Inventory 
This Live Masterclass: With a Top Student, Troy Vayanos, will teach you how to create a truly passive income on AMAZON without purchasing any inventory or showing your face. This Amazon Passive Income Machine can earn you money while you sleep. What would your life be like if Amazon paid you passive income every month after you set it up?
This Masterclass will CHANGE YOUR LIFE.