Simo Ahava – Google Analytics 4 in Big Query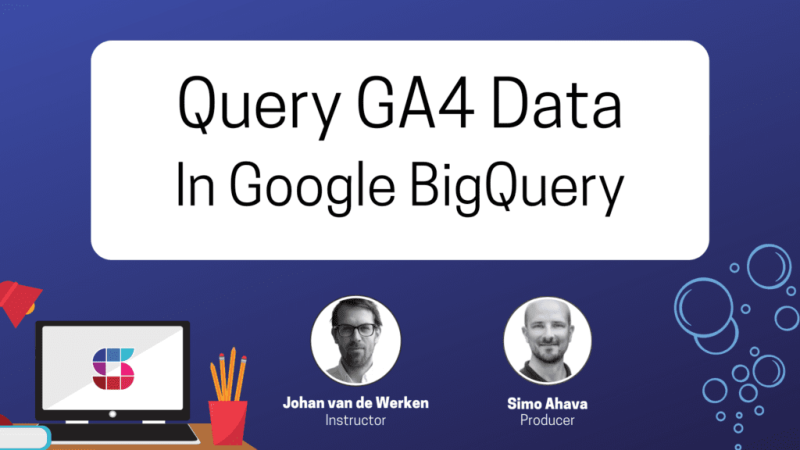 Introducing Simo Ahava's "Google Analytics 4 in Big Query" Course: Master the Art of Analyzing GA4 Data with Comprehensive Modules and Hands-On Learning.
Unlock the full potential of Google Analytics 4 (GA4) and BigQuery with Simo Ahava's groundbreaking course, "Google Analytics 4 in Big Query." This comprehensive course covers everything you need to know about working with GA4 data in BigQuery, from getting started to advanced query techniques. With a focus on hands-on learning and practical applications, you'll have the skills and knowledge to analyze, visualize, and transform your GA4 data like never before.
Here's an overview of what you'll get when you enroll in the "Google Analytics 4 in Big Query" course:
Getting Started: Learn how to set up the BigQuery environment, link GA4 and Google BigQuery, access the course dataset, explore the GA4 export schema, and run your first SQL query.

Events & Users: Understand GA4's session and user data models, session event data streams, group data by users and dimensions, access user properties, learn about unnesting data, and optimize query costs.

Engagement & Retention: Replicate and customize GA4's sessionization logic, use "engagement" for data segmentation, build custom pathing reports, create event reports and funnels, replicate GA4's retention model, and integrate BigQuery with Google Data Studio.
Monetization & Lifetime Value: Explore the e-commerce event schema, calculate ecommerce metrics, understand GA4's "items" concept in e-commerce events, build comprehensive item funnel reports, and calculate and visualize user lifetime value.

Advanced Queries: Master advanced techniques for working with GA4 data in BigQuery, create your own "engaged session" concept, combine GA4 data with other public datasets, flatten the GA4 schema for relational databases, and more. This section is constantly updated with new content.
Whether you're a seasoned analyst or a beginner eager to learn, the "Google Analytics 4 in Big Query" course offers you an unparalleled opportunity to gain in-depth knowledge and practical experience with GA4 data. With expert guidance from Simo Ahava, you'll be empowered to make data-driven decisions and optimize your online presence like never before.
Don't miss this chance to become a GA4 and BigQuery master. Enroll in the "Google Analytics 4 in Big Query" course today and embark on a transformative journey that will elevate your analytics skills and help you unlock the full potential of your data. Your future as a data-driven professional starts now.