Ryan Lee – 48 Hour Continuity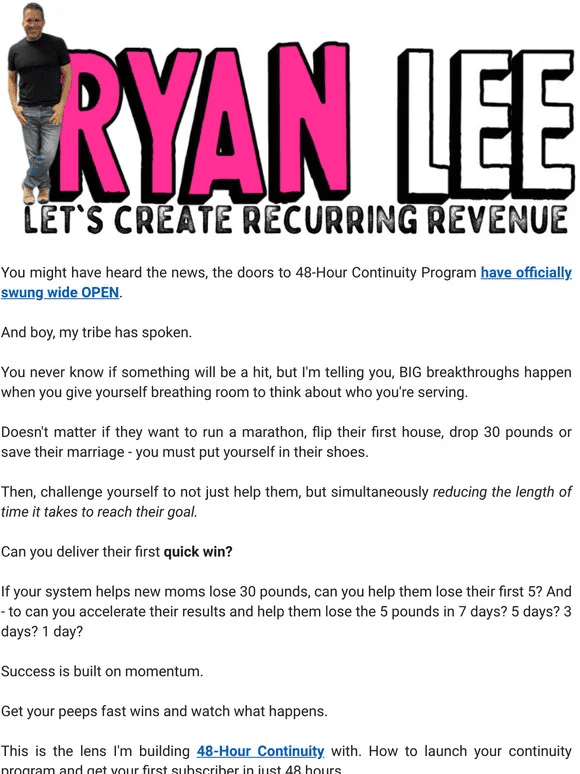 "LET'S BUILD YOUR CONTINUITY INCOME PROGRAM AND GET YOUR FIRST SUBSCRIBER… IN 48 HOURS!"
I'll never forget the day I realized the life-changing power of consistent income.
It was 2001, I was a full-time gym teacher in the Bronx, NY, and I had been dabbling online part-time for about 3 years with varying degrees of success (not enough to quit my full-time job).
The teaching job was enjoyable and challenging, but the commute was excruciating. In addition, the Hunts Point neighborhood was rough. My car was broken into every two weeks, and a student was slashed in a knife fight right before me.
My wife and I wanted to start a family, and I envisioned working from home to spend as much time as I wanted with my children, coach their sports as they grew, and vacation whenever we wanted.
Again, my online business had been hit or missed up to that point.
Some days, I'd sell a few products or an online training program; others, I'd sell nothing.
There was no consistency.
So I told her, "if I can create 6 consecutive months of online income greater than my full-time job – I can quit the job and work from home".
She agreed, and I would make it happen come hell or high water.
My mind began racing with ideas about how to pull this off.
"How the heck am I going to turn my passion for sports training into monthly, recurring revenue?".
The first thing I did was recurring research revenue from people like Terry Dean and Monique Harris (very few people taught this in the early days of the Internet).
After months of planning, I finally launched my first paid continuity program.
The Rise and Fall
I fell in love with recurring revenue right away. Oh, it was enthralling.
Starting the month at zero no longer changed the game. I had a steady income. I could develop. I could take a deep breath.
After 6 months, I had reached my goal and could leave my full-time job. I haven't had a "job" or a "boss" in over 21 years.
I then created MORE continuity programs after two years of tinkering, testing, and tweaking.
One is for teaching personal trainers about marketing. Another is for losing weight. Another with only workouts.
I was having a great time UNTIL I started drinking my own Kool-Aid.
Soon, I was speaking on stage all over the world. People called me a "guru," and I fell for it.
I began to suffer from a lethal combination of inflated ego, distraction, and increased business complexity.
Things deteriorated – call it my "bells and whistles" phase.
I spent $65K developing a special membership software that completely failed. Another $80,000 was squandered on an infomercial. A monthly print magazine has been launched (another loss).
Complexity and chasing scale destroyed me, and everything began to crumble.
The stress impacted my health and relationships, eventually leading to the diagnosis of an autoimmune disorder, which I am still dealing with today.
The Comeback to SIMPLE Continuity.
The Comeback to a ONE-Person Business.
To right the ship, I sold most of my businesses, took some time off, and returned with a laser-like focus on simplicity.
I took advice from friends and colleagues such as Dan Kennedy, Jay Abraham, and Ben Settle and focused entirely on simple continuity.
My new continuity program was so easy to set up (much less work than my previous membership sites) that it quickly grew to over 2,200 members, each paying $97 per month… and I did everything by myself.
Since then, I've started dozens of businesses, but none have been as simple, profitable, or simple to run as that continuity program.
Every time I try something that fails, it's because I broke the rules of "simple" and "solo" (the ability to run it with only one person).
If Continuity Income is the "Holy Grail", Why Do So Few Have It?
If you're reading this, you're probably aware of the life-changing, business-transforming power of consistent, recurring, monthly "continuity" income.
We WANT recurring revenue, but most businesses do not have it. So why not?
Because it can appear complicated. Overwhelming. You're at a loss for words. You're unsure how to launch and acquire new subscribers.
This is not your fault. We've been told that the only way to have a successful continuity program is to have a large, bulky membership and community.
It's not surprising that many have failed, and most marketers have given up.
But it shouldn't be difficult, my fellow lean, mean continuity machine.
I'm going to PROVE how simple it is.
The Perfect Time for "Lean" Continuity
There has never been a better time to implement a "lean and mean" continuity program. Something you can complete in an hour by yourself.
Previously, the Internet was a race to "more".
Whoever could out-content the others was the winner. But you can't win that game.
People are drowning in information and are desperate for targeted advice, direction, and curation.
They are prepared to PAY MORE FOR LESS.
FINALLY! You will not only learn how to generate consistent income at breakneck speed. You're going to DO IT…
LAUNCH YOUR FIRST CONTINUITY INCOME PROGRAM AND GET YOUR FIRST SUBSCRIBER IN JUST 48 HOURS!
We're going to fire up the browser and not only create a residual income program FROM THE GROUND UP… … you'll have your first subscriber within 48 hours.
Have I gone insane? Absolutely!
Boundaries will undoubtedly be tested. There will be rule violations.
But make no mistake: you WILL complete this task.
Just wait until you see how secure this is…
WTF?
Here's a taste of what's in store for you:
How to create a continuity program with NO website

The unbeatable pricing strategy guaranteed to get your first paid subscriber

My 

2 favourite resources that do EVERYTHING 

(process payments and automated delivery of your program) for FREE with no tech or website

3 ways to have content created for you – without you writing a word or even hiring a copywriter! (this will blow your mind)

The 2 top-secret words that automatically 

double your retention

How to get your first subscriber with NO list

And so much more…
The Details
The entire workshop was recorded, so you'll have the continuity strategy right before you.
You receive everything.
You'll get the 

copy/paste templates

(including the 1-page membership site). This will save you dozens of hours and thousands of dollars.

You'll get copy/paste emails that convert like crazy. I'm writing this just for you in this program.

You'll have your program ready by the end of the day with NO tech headaches or expensive software.

You'll get your first paid subscriber within 48 hours.
Consider how different your first continuity program will be.