Gael Breton, Mark Webster – Authority Hacker Pro 2022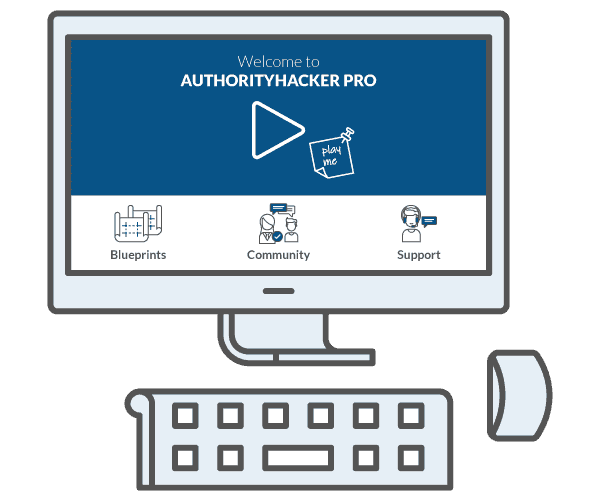 Authority Hacker Pro Is The World's Most Comprehensive Authority Site Training Program.
Learn how to build profitable authority sites with us in Authority Hacker Pro 2022.
Learn & Become A Full-Stack Online Marketer
With our ever-expanding library of over 420 Over The Shoulder Video Blueprints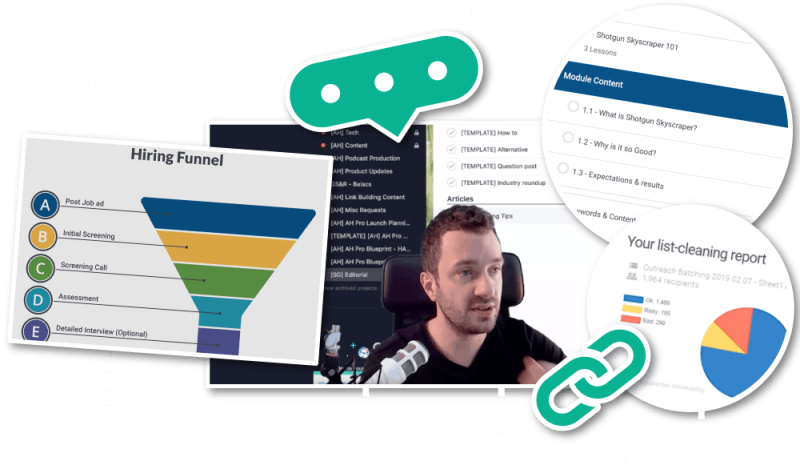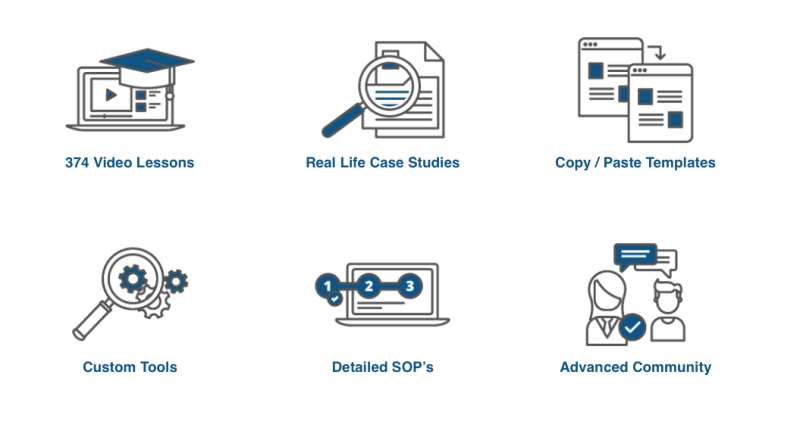 Output More Content Than Ever
WITH OUR ADVANCED CONTENT CREATION BLUEPRINTS
Everyone understands that great content is essential for a successful website. However, how do you scale content production while improving quality and lowering costs?
It's extremely difficult to do all of that at the same time.
This is why we've compiled a set of advanced blueprints that will show you exactly how to configure your content production engine for maximum productivity.
The Keyword Research Blueprint: Within this blueprint, we will create a framework that will allow you to consistently find new keywords for your site to rank for. You'll also be able to keep a close eye on what's working in your niche, ensuring that you don't miss out on a winning trend.
The Building Your Content Team Blueprint:  To progress, you must create a large amount of high-quality content. We'll show you our incredibly detailed hiring process and how you can use it to hire a team of A-players to create content for you without breaking the bank in this blueprint.
The Editorial System Blueprint:  We'll show you exactly how to structure content into repeatable formats that you can train your staff to execute with minimal input from you in this blueprint. You'll also create an entire editorial production workflow system.
Acquire More Links For Less
USING THE BEST & MOST UPDATED PROCESSES
If the content is king, links are queen for generating massive organic traffic.
And getting links that matter is more difficult than ever. You will require a large number of high-quality links. Creating scalable link-building systems and processes is the only way to do so without upsetting Google.
This is why we created not one, but three extremely efficient yet complementary blueprints. These enable you to scale white hat link building while obtaining super high DR links from some of the internet's top sites.
The Shotgun Skyscraper Blueprint: This extremely detailed system will guide you through the most efficient white hat link-building system ever documented. It will allow you to create many relevant links without the need for a large team or a lot of money.
The Guest Posting Blueprint: In the last eight years, guest posting has come a long way. The strategies you'll need to succeed in 2019 are vastly different. However, most people are still employing 2012 strategies. That's why they're not getting anywhere. We show you how to really get results using both Sniper and Shotgun approaches with our latest systems and processes in this blueprint.
The HARO Blueprint: Subscribe to the Help A Reporter newsletter. Respond to the questions. Obtain hyperlinks. Isn't it simple?! No, not quite. As with most things in link building, the devil is in the details. Our tried-and-true system has consistently provided us with incredible links. We're talking DR 90 or higher here. We'll give you that exact system in this blueprint.
BRING PEOPLE BACK TO YOUR SITE
SEO is a great place to start. However, the key to rapidly growing true authority sites is something far more valuable in the long run: repeat visitors.
There are more platforms for you to build a following than ever before. It cannot be easy to learn how to use each of them properly. We've already solved the problem for you. You need to focus on implementing our strategies so that people return to your site repeatedly.
The Giveaway Blueprint:  Use this highly repeatable marketing tactic to rapidly build a large follower list across all social platforms and email to create a platform to promote your content.
The Content Promotion Blueprint (Coming Soon): This blueprint will show you how to get people to look at your content right after you hit the "Publish" button and how to drive traffic and engagement to older content on autopilot.
The Email Marketing Blueprint: Learn how to create an automated email system that engages and sells to your most ardent supporters. Whether you have your own products or promote affiliate offers, this will take you from zero to hero in terms of email engagement and sales.
Convert Followers Into Buyers
USING ADVANCED FUNNELS & AFFILIATE TACTICS
What's the point of growing a fan base if all you get are likes and retweets?
Your ability to monetize your audience is the most important factor in determining how quickly your business grows. If you can increase traffic but only get pennies for each visit, no matter how good an SEO or social media expert you are, you will always be broke.
As a result, we have created monetization formulas that you can use to quickly convert traffic into dollars. Choose the ones that make the most sense for your company and abilities, and stick with them until the first check arrives in your mailbox ;).
Building an Info Product Blueprint:  Even if you are not an expert, we will walk you through the exact process we have used countless times to create high-quality information products on our sites. This systematic approach will assist you in producing a truly useful product that will delight your new customers.
The Evergreen Funnels Blueprint: Learn how to sell any product on your website extremely effectively by combining evergreen scarcity with powerful sequences and copywriting techniques. This blueprint is solely responsible for our company's millions of dollars in revenue.
The Affiliate Marketing Blueprint:Learn how to creatively use affiliate marketing to promote offers to your audience and maximize conversion rates by combining multiple mediums such as emails, ads, social media, and blog content.
Expand Your Website Fleet
If you don't yet have an authority site or want to systemize the growth of your website empire, The Authority Site System® is for you. Here, we take you along as we launch a brand new website to add to our portfolio and demonstrate how we get new sites up and running.
From niche selection to initial setup and content creation, building the first links and generating traffic. This is the most comprehensive course on starting new websites available on the market. Authority Hacker Pro includes the entire course.
Outsource & Automate Your Entire Operation
Using Our Prebuilt Templates, SOP & Hiring Guides
Copy & Paste Our Processes
USING OUR COMPLETE TEMPLATE LIBRARY
Starting any marketing campaign from scratch can be daunting. We discovered that the 'blank page syndrome' is one of the primary reasons people do not implement new marketing processes in their businesses.
This is why we've compiled a library of 'fill in the blank' templates related to blueprint lessons.
You can either download them and apply them to your business as you watch the blueprint videos or browse them all in one convenient location to speed up the action taken.
Growing your online business is as simple as CTRL + C and CTRL + V with these copy-and-paste templates!
Outsource & Hire An Elite Team
WITH OUR DFY JOB TEMPLATES & SOP
Not only did we create copy-and-paste templates for you to quickly and effectively implement the strategies we shared. However, we have prepared your staff's job descriptions and standard operating procedures for selected blueprints.
This means that YOU are not required to do the work.
Use our premium job postings and screening process to find the ideal candidate to manage the process for you.
Then, using the documentation we prepared for you, train them and show them precisely how to carry out the process. This way, you only need to follow the hiring and management processes and delegate the work to others.