Jon Buchan – Charm Offensive Pro 2022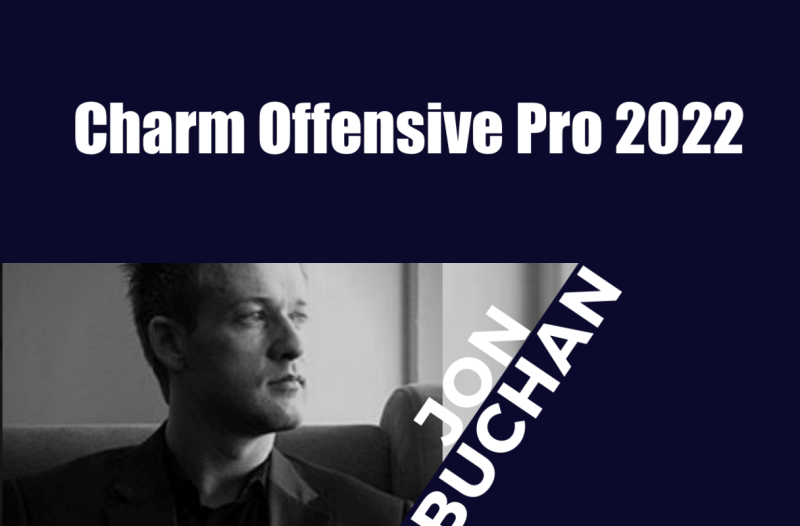 Presenting the "Jon Buchan – Charm Offensive Pro 2022," a comprehensive course aimed at transforming your business communications and marketing techniques.
This course will provide you with an arsenal of resources, templates, training, and eBooks that will revolutionize how you approach marketing, lead generation, and client interactions.
Whether you're a seasoned business professional or just starting, Charm Offensive Pro 2022 will equip you with the tools you need to stand out in today's competitive market.
The Charm Offensive Pro 2022 includes access to over 250 templates spanning 16 unique packs.
These templates cover a range of scenarios, such as cold pitching, closing deals, following up old leads, and securing job interviews. These ready-to-use templates are meticulously designed to aid you in various business situations, saving you time and boosting your success rate.
In addition to the templates, you will have full access to Jon Buchan's ten complete courses.
This includes the renowned Always Be Winning course, a game-changing program that teaches unorthodox lead generation and marketing strategies. Through these courses, you will delve into the intricacies of effective marketing and learn how to create compelling narratives that capture your audience's attention.
Lastly, Charm Offensive Pro 2022 offers seven comprehensive eBooks. These resources encapsulate Jon Buchan's unique approach to writing email templates, building a thriving community, and sifting through the best advice from the Charm Offensive Facebook group. The eBooks are carefully crafted to provide insights into the successful strategies and lessons learned throughout Jon Buchan's career.
With Charm Offensive Pro 2022, you're not just getting a course but a masterclass in persuasive and charming communication that's been tried and tested in the real business world.
It is more than a course; it's a gateway to a community of like-minded professionals and a treasure trove of resources designed to propel your business to new heights.
The Charm Offensive Pro 2022 isn't just about learning; it's about implementing effective strategies and seeing real results.
So, if you're ready to take your business communications to a new level, win over clients effortlessly, and to make your mark in your field, then the Jon Buchan – Charm Offensive Pro 2022 is the course for you.