King Khang – Complete Wholesaling Playbook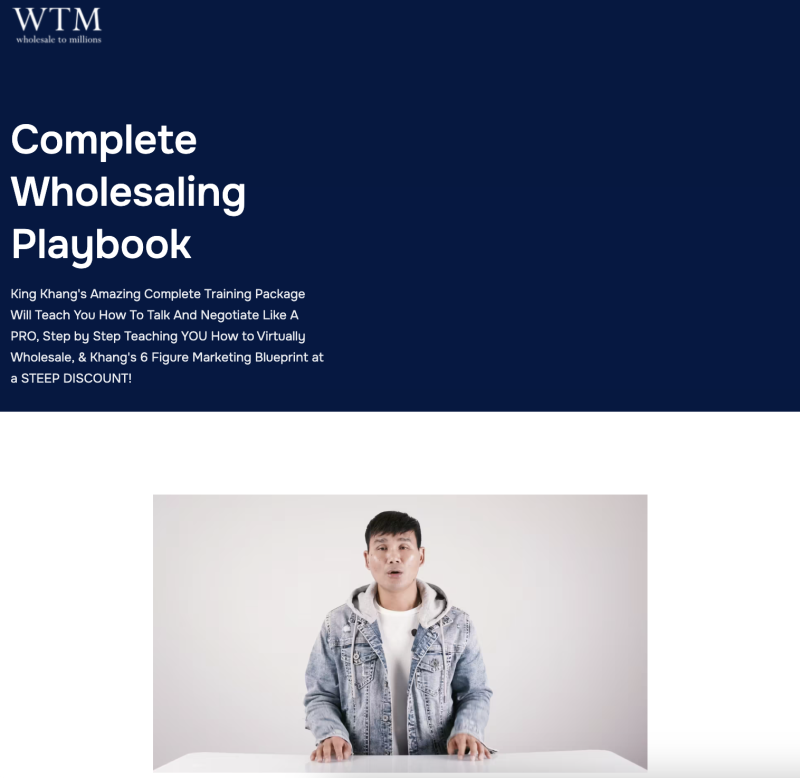 Have you ever envisioned forging your path in the bustling realm of real estate wholesaling? Then King Khang's Complete Wholesaling Playbook course  is tailored for you, an all-encompassing guide designed to catapult you to wholesaling success.
A Peek Inside the Playbook:
In-Depth Educational Videos:
Dive into myriad educational content, meticulously crafted to answer every question you might have. 
From business registration nuances to unearthing motivated vendors, this course leaves no stone unturned. Moreover, familiarize yourself with the art of liaising with title companies and spotting those invaluable cash buyers. As if that's not enough, amplify your reach with proven marketing strategies, both organic and paid.
Wholesaling: Local & Online:
Whether aiming to tap into the local real estate treasure or venturing into expansive online horizons, the playbook has got you covered. Grasp the intricacies of localized wholesaling, and equip yourself to penetrate new markets and captivate fresh clientele.
Wholesaling Contracts & Tutorials:
Navigate the intricate world of real estate contracts with ease. The course offers you every essential wholesaling contract and comprehensive how-to videos, ensuring you're always on the right legal track.
First Sale & Beyond:
Closing your inaugural deal can be daunting, but with our day-by-day guide, success is just around the corner. Unlock the secrets to targeting high-potential zip codes irrespective of your location. Plus, gain exclusive access to distressed property listings, unveiling the hottest prospects in the market.
Scaling Your Wholesaling Business:
A thriving business demands expansion. Learn how to catapult your enterprise to rake in six figures monthly. Delve into constructing effective systems and fostering a stellar team aligned with your growth vision. Also, master the nuances of handling cash buyers and integrating virtual assistants into your business blueprint.
Live Recorded calls:
Amplify your learning experience with over 12 live-recorded seller calls. Witness real-world negotiations, address seller apprehensions, and finesse your bargaining prowess.
Exclusive Market Selection Guidance:
Regardless of your geographical location, the playbook gives you the insights to cherry-pick the most lucrative markets for your wholesaling endeavours.
Exclusive Community Access:
Immerse yourself in a vibrant Facebook community of fellow wholesalers. This forum offers you a chance to network, exchange insights, and seek guidance from industry stalwarts. And the cherry on top? Lifetime access to this thriving community and the course ensures perpetual growth at your rhythm.
King Khang's Proven Outreach Scripts:
Supercharge your outreach initiatives with the King Khang Inbound & Outbound Seller Script, a tried-and-tested tool for cold calling and telephonic offers. Experience a noticeable uptick in your success rate with this gem in your arsenal.
Why King Khang's Playbook?
In the vast sea of real estate courses, King Khang's playbook stands out as a beacon for both novices and seasoned professionals.
 It's not just a course; it's an investment in a brighter, financially liberated future. With a trove of knowledge, resources, and unparalleled support, it's the perfect catalyst for your wholesaling ambitions.
So, are you ready to etch your name in the annals of real estate wholesaling? Seize this golden opportunity and embark on a transformative journey with King Khang's Complete Wholesaling Playbook today!